Nestled in a picturesque landscape characterized by enchanting sandstone bluffs, rolling countryside, and steep hills,
Dodgeville is a city that boasts a rich and colorful history, a cozy small town charm, and the thrill of unforgettable
outdoor activities.
Dodgeville is the county seat as well as the most populous city in Iowa County, with an estimated population of over 4,700 residents. The city is located within Southwestern Wisconsin's distinctive "driftless region," a landscape encompassing more than 24,000 square miles untouched by continental glacial activity. The lack of glacial drift means no gravel, silt, or rock were left behind by retreating glaciers, resulting in a landscape that's simply breathtaking to behold, with serene wildflower prairies and meadows, rugged rock outcroppings, hillside forests, serene lakes, and meandering streams.
Dodgeville's stunning environment and abundance of natural resources makes it a terrific place to enjoy a wealth of
activities year round. There's simply something about this city that immediately draws you in, welcomes you with open
arms, and invites you to stay, create unforgettable memories, and satisfy your hunger for fun and adventure!
Dodgeville's city motto – "At the heart of it all!" – is a true one. Whether you're into history, arts and culture,
shopping and dining, outdoor recreation, or exciting events, you'll have no shortage of fun activities to enjoy and
places to discover.
With so many interesting venues and unique experiences available in the city, figuring out where to head to first can be
a challenge. To help you out, we've listed down some of the best things to do in Dodgeville, WI.
Outdoor recreation
Dodgeville is one of the best destinations for outdoor lovers in Southern Wisconsin, with its picturesque parks, scenic trails, and breathtaking landscape perfect for a wealth of recreation opportunities.
Here are some of best outdoor destinations for you to check out:
4175 State Highway 23 N
Dodgeville, WI
Governor Dodge State Park is a fantastic place to relax and soak in the views, with its serene lakes, rushing waterfall,
and enchanting woodlands. This stunning park features breathtaking views and spacious recreational areas, along with an
on-site concession stand that offers equipment rentals, food, souvenirs, and other items.
No matter what time of year, there's always something to enjoy at Governor Dodge State Park. You can explore the park's
extensive network of hiking, biking, or horseback trails, or go fishing, boating, or swimming in Twin Valley Lake or Cox
Hollow Lake during the summer. During the winter season, many visitors flock to the park to enjoy cross-country skiing,
snowmobiling, and other activities in the snow.
501 S Dacotah St,
Dodgeville, WI
Centennial Park is the perfect spot for those looking forward to a relaxing day outdoors. The family-friendly park
features a spacious community area where visitors can have a picnic at the sheltered pavilions while their kids spend
time at the playgrounds.
Centennial Park also features amenities such as tennis courts, a baseball field, horseshoe pits, and the Comer Swimming
Pool Complex.
4228 Highway 23,
Dodgeville, WI
Take in panoramic views of the stunning landscape around Dodgeville while on horseback. Doby Stables offers relaxing
trail rides led by experienced guides for visitors of all ages and experience levels.
Younger riders can enjoy the easy 45-minute trail ride, while more experienced riders can opt for the thrilling one-hour
excursion that will take them to nearby Governor Dodge State Park. Call Doby Stables today at 608.574.1279 to make your
reservation.
600 Bennett Rd,
Dodgeville, WI
Located on the eastern boundaries of Dodgeville, Harris Park is a 30-acre community park that serves as the venue for
many of the city's High School soccer games, as well as Little League and Cal Ripkin baseball tournaments.
The park is equipped with a variety of well-maintained amenities, including a 27,000 square foot multipurpose facility,
a kid's play area, lighted shelters, a two-mile paved walking path, picnic areas with tables and grills,
baseball/softball diamonds, beach volleyball courts, a basketball court, and athletic fields for soccer and football.
5754 State Road 23
Dodgeville, WI
The House on the Rock started in 1945 as a relaxing retreat perched on a rocky hilltop surrounded by breathtaking
panoramic views. Over the years, numerous displays and exotic collections were added to the venue, which guests can
experience today through three individual tours or "The Ultimate Experience" tour, which covers all sections. Take a
look at this page for detailed information on the different rooms and exhibits you can find at The House on the Rock.
In addition to their unforgettable tours, there's also the nearby House on the Rock Resort, which features 27 holes of championship golf designed by some of top course architects in the game. Guests can enjoy a variety of luxurious amenities as well, including a fine dining restaurant, a spa, indoor and outdoor swimming pools, and more.
3100 County Rd CH
Dodgeville, WI
The picturesque Bloomfield Prairie is the perfect place to head to if you want to relax, enjoy the views and the fresh
air, and see the wildlife. Originally used for agricultural purposes, the sprawling 432-acre site was restored over the
past two decades, and is now a thriving grassland that serves as a sanctuary for birds.
Events and festivals
Dodgeville locals look forward to a spectacular lineup of exciting events and festivals every year, including music
festivals, food fairs, arts and crafts bazaars, parades, and more.
Here are some of the most anticipated events held in and around Dodgeville each year:
The Wisconsin Grilled Cheese Championship puts the grilling skills of competitors to the test to find out who has what
it takes to be grilled cheese champion.
Created by the Iowa County Area Economic Development Corporation (ICAEDC), the Wisconsin Grilled Cheese Championship is
an annual event designed to promote Wisconsin's dairy industry. It was originally hosted in Dodgeville, before
transferring to nearby Mineral Point, WI in 2014, although the Dodgeville Area Chamber of Commerce still hosts the
competition.
Everyone can join the Wisconsin Grilled Cheese Championship as either a participant or spectator. If you'd like to sink
your teeth into competition-level sandwiches however, you will need to purchase VIP tickets.
Visit the competition's official website for information on the next event, tickets, competitor sign ups, and more.
Held on the third full weekend of October every year, the Fall Art Tour is an event showcasing some of Wisconsin's top
artisans, who open their studios to provide visitors a glimpse into the process behind their work. The tour draws
countless visitors from all over the country and into artists' studios located throughout Dodgeville and other nearby
communities such as Baraboo, Mineral Point, and Spring Green.
Artists will be at their studios during the three-day event as they demonstrate their skills, and offer insight about
their inspiration, techniques, and creative process. Some of the artists' studios are open only during the tour itself,
which gives visitors a rare opportunity to interact with the creators and purchase their works.
Organized by the Dodgeville Area Chamber of Commerce, the Dodgeville Dodgefest is a family-friendly music festival
featuring some of the top bands and performers in the area, along with a car show, fun competitions and activities,
Maxwell Street vendors, delicious food, and some of the finest craft beers in town.
Visit the event's Facebook page for schedules and other information.
Held in Downtown Dodgeville, Off the Vine is an annual evening wine tasting walk where visitors can get to experience a
variety of excellent wines, great-tasting food, good company, and works of art from participating area artists.
Many of the top restaurants and bars in Downtown Dodgeville participate in Off the Vine, each with their own wine
samples, snacks, and activities for guests to enjoy.
Dining in Dodgeville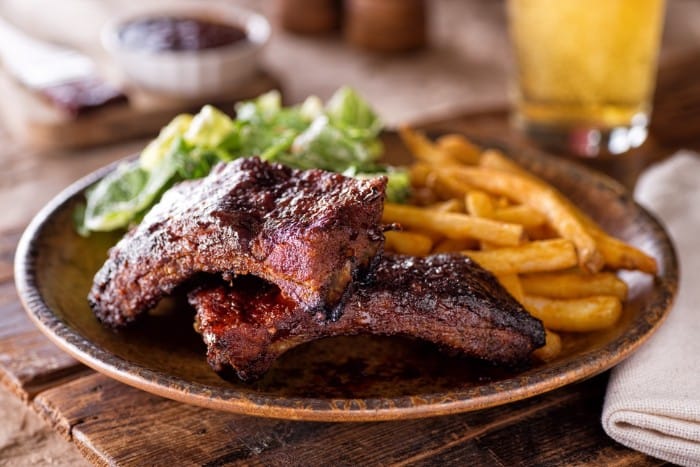 Whether you're looking forward to a nice Sunday morning brunch, a hearty family dinner, or some ice cold beers and tasty
bar food on game night, Dodgeville's terrific dining scene is sure to satisfy.
In this section, we list down several must-visit restaurants, cafes, pubs, and bars around Dodgeville.
167 N. Iowa Street
Dodgeville, WI
Craving for tender, juicy, BBQ fresh off the grill? Bob's Bitchin' BBQ is the place for you. BBQ at Bob's is made from
scratch right in their kitchen with locally sourced ingredients before it's smoked slowly to perfection with their
signature dry rub and seasoning.
Guests at Bob's can enjoy their BBQ with the restaurant's eight signature sauces, which has something for everyone,
whether you enjoy classic flavors, looking for a little bit of heat, or prefer a hint of sweetness with your 'que.
1202 N Johns Street,
Dodgeville, WI
Opened in 2004 by Dodgeville locals Craig and Dawn Dougherty, Café by Country Kitchen is famous for their homemade
breakfast and lunch dishes rooted in classic country comfort food.
Almost every item in their menu is worth a try, but if you were to order just one dish, go for their Country Fried Steak
& Eggs, which features a delightful serving of breaded, perfectly seasoned beef smothered in a generous amount of
country gravy, with a side of eggs, hash browns, and your choice of fruit, pancakes, or toast – it's enough to keep you
coming back for more!
154 N Iowa St.,
Dodgeville, WI
Visitors who flock to Governor Dodge State Park or House on the Rock often stop by Quality Bakery to get their fix of
delectable Bismarck donuts. Their chocolate frosted donuts are a popular choice, but be sure to try their peanut butter
flavored ones as well, which are just as delicious. They serve amazing turnovers too, wrapped in crisp pie-like crust or
dusted with powdered sugar, all bursting with flavors of fresh fruit.
In addition to their incredible Bismarck donuts and turnovers, Quality Bakery offers a diverse assortment of goods.
Their front window is always stocked with classic pastries and treats such as saffron buns, elephant ears, Cornish
pasties, and angel food cakes topped with white frosting and fresh, juicy strawberry chunks.
138 N Iowa St,
Dodgeville, WI
Open since 1999, Cook's Room Café offers a top-notch assortment of deli-style salads, grilled paninis, wraps, soups, and
sandwiches, all made with fresh, high quality local ingredients. The café is situated right in the middle of the shops
along Downtown Dodgeville's Main Street, which makes it a perfect place to stop by and relax during an afternoon of
shopping.
What ties the dining experience together at Cook's is their collection of unique art, framed handcrafted pieces, and old
fashioned tablecloths and décor, which creates a pleasant and cozy atmosphere for guests as they enjoy their meals.
105 E Chapel St,
Dodgeville, WI
Drew's Pub & Ale House is a casual restaurant serving mouthwatering dishes along with a diverse assortment of beers
on tap. A popular spot for many locals, Drew's is one of the best places in town if you're looking to unwind, enjoy some
live music, and savor casual fare like burgers, hot dogs, and chicken wings, with an icy cold beer in hand.
Historical and cultural destinations in Dodgeville
If you'd like to get a glimpse of Dodgeville's rich history, immerse yourself in culture, or take your family on a fun,
educational trip to the museum, you'll be able to discover many fantastic destinations in and around Dodgeville.
3210 County Road BB,
Dodgeville, WI
One of Dodgeville's top cultural attractions, Folklore Village is a nationally recognized folk arts and culture center
focused on providing insight on beloved time-honored traditions from all over the world. This unique establishment
offers a diverse calendar of events and activities including plays, music and dance performances, historic preservation
projects, comedy shows, and arts and crafts workshops for all ages.
Nestled amidst southwestern Wisconsin's rolling hills, Folklore Village is surrounded by captivating views of sprawling
fields, scenic farmlands, and nearby forests and prairies. The 94-acre site includes amenities such as:
Farwell Hall – a 5,500 square foot exhibit and educational facility.
Plum Grove Church – a historic 1882 building listed on the National Register of Historic
Places. It is used as a venue for weddings and other special events.
Rustic Bunkhouses – accommodations for overnight retreats.
Wakefield School – an 1893 school house
The 1848 home of Aslak Olsen Lie, a community leader and renowned craftsman
Tall Grass Prairie Restoration Project – an expanse that's home to more than 30 relic species
of remnant prairie and grassland birds.
Visit Folklore Village's website for info on upcoming activities and events.
914 Bequette Street
Dodgeville, WI
Travel back in time by visiting Old Rock School, a historic property built in 1853. Listed on the National Register of
Historic Places in 1978, the two-story building was constructed out of limestone rubble, and was used as a schoolhouse
for nearly 50 years before being converted into a private house in 1882.
The Old Rock School is an important part of the city of Dodgeville's history, and is an excellent example of
19th-century Cornish masonry.
1301 N Bequette St,
Dodgeville, WI
Learn more about the area's rich history at the Iowa County Historical Society & Museum, which features an extensive
collection of interesting artifacts and archives.
Opened in 1976, the museum is focused on the evolution of Iowa County, which started as a mining town before
transitioning into a modern city. Visitors will be able to see an assortment of fascinating items including local
artifacts, authentic photographs, microfilms of newspapers, and more. The museum also features a detailed replica of a
mining camp and a schoolroom.
Find your dream home in Dodgeville, WI today
These are just a few of the many fun things to do in Dodgeville, WI waiting for you! If you're in the market for the perfect home in the area, you'll be hard-pressed to find a more experienced and reliable team of Realtors than Potterton Real Estate.
Since 1939, we have been serving the real estate and insurance needs of home buyers and sellers throughout Southwest Wisconsin, specializing in sought-after areas including Dodgeville, Mineral Point, Mount Horeb, and Platteville. Each member of our team has the expertise, skills, and knowledge required to help you find your dream home or sell your current residence for the best price possible. We also have an insurance division which offers very competitive rates in home, auto, farm, business, life, and health.
In addition to our expertise on the market, our team also possesses comprehensive information on the different
neighborhoods in the area, so you can find the right community that matches your lifestyle. As members of the community
ourselves, nothing gives us more satisfaction than helping others discover the place we call home.
Ready to get started? Get in touch with us at Potterton Rule today by calling 608.935.2396, or send us an email at info(at)pottertonrule(dotted)com. You may also leave us a message here.